16
« on: September 17, 2014, 01:21:18 AM »
My list...designed to be the all-arounder:

- Histogram based on RAW *!* (screw JPEG! )
- Higher frame rate (8fps, using CP-ADC for low noise, high speed readout)
- More dynamic range (high and low ISO...two stops low, as much as possible high)
- More resolution (~50mp)
- Layered sensor (drop the bayer! with binning capability, so I could bin 2x2, 3x3, maybe even 4x4 for very high ISO, as I'd rather have the SNR than anything ...yes, this would mean 150 million photodiodes)
- iTR metering
- f/8 AF with center zone support (say 13 center af points usable at f/8)
- AF-point linked meter
- DPAF-automated AFMA (and, therefor, DPAF)
- Dual CF (w/ CFast2 support)

"iTR metering"?
iTR is the AF tracking mode that uses the metering sensor for subject recognition and tracking...
I must say, I'm quite surprised at the number of people in this thread asking for:
More DR at base ISO
More resolution
Spot metering linked to AF point
Programmable Auto ISO
EC in M mode (and while we're at it: in a less stupid implementation than the 1D X's)
Face detection & tracking outside of Live View
... and at least one guy asking for better subject tracking across the frame after initially choosing a subject (well that makes 2 of us now, since this is one of my wishes as well)
So... I'm just wondering how many here realize that the
D810, D800, and D750
already have
every single one
of those features...
Or perhaps that's the point - everyone here wants what Nikon already offers? Either way, it's kind of funny
I'm going to add one more thing to the list:
-
AFMA for every single AF point
, and then, yes, DPAF/CDAF-automated AFMA... b/c AFMA is already incredibly annoying as it is - imagine doing it for 65 points!
I want this b/c I'm finding more and more that you can't trust the factory calibration process to have calibrated every focus point perfectly.
Falk Lumo did some great work that showed AFMA inconsistencies across the AF sensor,
on top of
a skew that resulted in the left AF problem: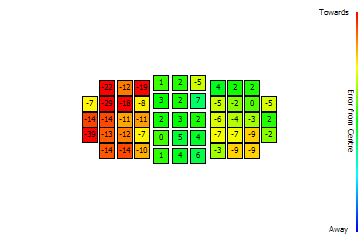 This is taken from his article here:
http://www.falklumo.com/lumolabs/articles/D800Focus/SensorArray.html