1366
« on: January 17, 2014, 10:49:04 PM »
Your problem is that your thinking in terms of sky and frond, rather than waveform A and waveform B. If you decide to think of the problem as sky and fronds, then yes, you just have sky and fronds. You have to change your mode of thinking. It isn't sky and fronds interacting to produce...sky and fronds. It is waveform A and waveform B interacting to produce waveform AB' (which, yes, if you "imaged" waveform AB' you would have sky and fronds...but it would be sky and fronds in an entirely different and unique pattern that did not represent A or B distinctly...it would only represent aliases of A sky and fronds and B sky and fronds....does that make sense?)

I'm talking in terms of a general concept. As I said before, it depends on how you think about the problem. You can think of it as real-world objects, or you can think of it as something else...as discrete waveforms that interact. Generally speaking, of course...I am talking about moire in the abstract, not necessarily the specific. I was trying to demonstrate the concept at large.




Strictly speaking though those frond type and lines overlayed over lines moire patterns are not interfering waveforms though so the moire there really is not wave interference even in a general sense and it's something different (although there are direct similarities to what you'd get from a matched set of wave interferences, but it's different and you don't get the fringing and stuff and so on, you could 1:1 match the center point of the black parts and white parts or centers of the overlapped fronds and centers of the 'overlapped' sky parts to the very peaks and very troughs of matched interfering waveforms though).




They are a waveform, when "observed" as an image.You don't need a camera to think of things in different conceptual models...everything you see could be considered as represented in spatial waveform space. Technically speaking, rather than strictly speaking, everything in the universe exists with different representations in different conceptual models, and each one is valid. Anyway, this discussion has gone way off topic, so....




But the moire pattern isn't strictly a waveform interference pattern. I mean just go to the even simpler thick parallel black lines of slightly different spacing on transparencies and overlay them in various ways and look at the moire. That's not classical waveform interference. The moire can be directly related in ways to waveform interference but a true waveform interference pattern of closest relation isn't the same.

The lines of your transparencies are part of a wave. The lines themselves, say black, are the "trough" of a wavelength, where as the transparency next to it is the crest. Moire occurs because you are overlaying two waveforms. Just because they are lines on a paper does not mean they cannot be modeled as a spatial frequency...a spatial frequency is exactly what they are. Thick black lines separated by thick bands of transparency is a wave of lower frequency, while thin black lines separated by thin bands of transparency are of higher frequency. This image from Norman Koren's site demonstrates: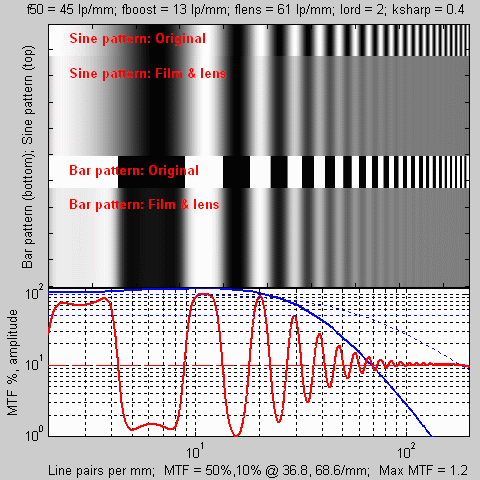 Just a bunch of black and white lines, right? No, it's not...depending on how you model or observe the information, it is both lines, AND it is a wave. AND it's also a pattern. The red plot at the bottom models those lines differently than how we classically see them. ALL THREE representations (cage, wave, pattern) are correct and valid...simultaneously. Here is a visual example of moire in reality, caused by the interference of two parts of a monkey cage at a zoo (this moire has nothing to do with the sensor, as the patterns are all clearly much larger than sensor pixel size):
The monkey cage is no different than Norman's diagram...it simply exists in more dimensions rather than one. It all depends on how you decide to mentally and conceptually observe the information your eyes are seeing. Yes, it's just a monkey cage. But that cage's structure can be
represented
by a wave, as can the moire pattern produced by overlapping parts of the cage.
The nice thing about reducing all this stuff (despite the fact that it is very different real-world things like lines on transparency, monkey cages, pixels on a sensor, etc.) to waves is that you then have a single conceptual mental model with which to work with. ALL interference, therefor, is ultimately the same thing, can be modeled the same way, processed with the same mathematics, etc.