August 21, 2014, 10:59:43 PM
Topic: High ISO comparo: 5DIII vs. D800 (Read 32655 times)
---
Man, V8Beast, I absolutely love your photos. The sense of motion and the lighting are spectacular.
Logged
---
One interesting thing is that I just noticed that some have said that the horizontal banding on the 20D had been more random and the vertical block kind more fixed and if that holds for the 5D3 maybe the vertical can be removed if software were to allow you to feed it a bunch of dark frames and since the 5D3 already seems to have cured the horizontal type, maybe banding could be really cut down.
I've thought of this too. There is definitely some banding that remains constant in the 5D2, & I've averaged multiple dark frames to see this. Still trying to work out an algorithm to get rid of the pattern noise & see if it helps. Yeah maybe we'll be lucky & the banding will be fixed (not actually 'fixed', haha) and we'll be able to get rid of it (I'm pretty sure people have already worked out a software algorithm to do this).
LTRLI, dunno if you had a chance to read my other posts, but, in general I think your method for calculating the DR from the black/white files *could* be valid (certainly seems so, as they match up with DXO results, assuming DXO is doing DR tests properly by actually metering scene, or input, illumination)... but could also be entirely invalidated if some strange non-linear function were applied to the data before being written to the RAW file (such as my example of assigning any pixel value <2060 to 0... which'd effectively decrease your measured standard deviation in your black file... and maybe that black file would end up looking like the D7000 file I mentioned, which has an average pixel value of 0.43, a stdev of 0.7, and a max value of 8 ).
Anyway, I should be first in line for a 5D3 so I'll measure myself using the not-so-accurate method of shooting a gray card at many different exposures to estimate the DR.
Logged
---

There aren't many direct ISO comparisons (ie 1600 vs. 1600) in these samples, but my own worthless opinion is that the 5DIII at 25,600 looks almost as good as the D800 at 6400, and the 5DIII looks substantially better at 6400 than the D800 at 6400. So, my unscientific conclusion is that the 5DIII tops the D800 by 1.5 to 2 stops.

Discuss



All other things being equal any 36 mp camera will have poorer light sensitivity than any 22 mp camera. Fewer pixels, same size sensor, equals bigger pixels and a bigger pixel collects more photons in the same time period. Plain and very simple physics. Take it from an astronomical imager with 20 years experience - this matters.

All things being

equal

.
In that case, and really only in that case...yes. Its not that simple though.
The simple fact of the matter is things are not completely equal, even from generation to generation of each sensor. The 36mp Nikon sensor DOES have some distinct advantages over the 5D III, I don't think anyone (including myself) have disputed that. I think at a per-pixel IQ level, the D800's 36.3mp will only be marginally worse than the 5D III's 22.3mp sensor. In a real-world context, I think the only real performance differences that are actually going to mean anything significant on the IQ front are the larger image size of the D800, and the higher ISO capability of the 5D III. Noise will proabably be very comparable between the two. The 5D III will probably have a slight edge on highlight headroom. The D800 will have a solid lead in terms of shadow recoverability.
Logged
My Photography
Current Gear:
Canon 5D III | Canon 7D | Canon EF 600mm f/4 L IS II | EF 100-400mm f/4.5-5.6 L IS | EF 16-35mm f/2.8 L | EF 100mm f/2.8 Macro | 50mm f/1.4
New Gear List:
SBIG STT-8300M | Canon EF 300mm f/2.8 L II
---
Man, V8Beast, I absolutely love your photos. The sense of motion and the lighting are spectacular.

Thanks
I'm just trying to keep up with those that are better than me.
On a different topic, one factor I neglected to mention about the image with the Mustang is that for car-to-car shots, the 5DIII's advantage in FPS over the D800 is huge. If you're a high-end commercial photographer that has the means to get a permit to shut down a public road, then you can get as many cracks at a shot like this as you want, as long as the light doesn't get too harsh. For editorial hacks like me, unfortunately that's not an option.
For one, this shot was taken on a public road while trying to circumvent traffic. Secondly, I'm sticking my head out of the moon roof of an SUV, which is quite hairy. If a cop sees you doing something like this, he's going to tell you to go home ASAP. Thirdly, the surface was very bumpy, making it very difficult to get the desired motion blur with a low shutter speed while maintaining acceptable images sharpness. These are all factors work against you, and lower your "hit rate." The ability to fire off as many frames in a given amount of time is always helpful in these situations.
I tried to capture a shot at a very specific point on a bridge, but it didn't quite work out, and this is the best I could get. Oh well, maybe next time.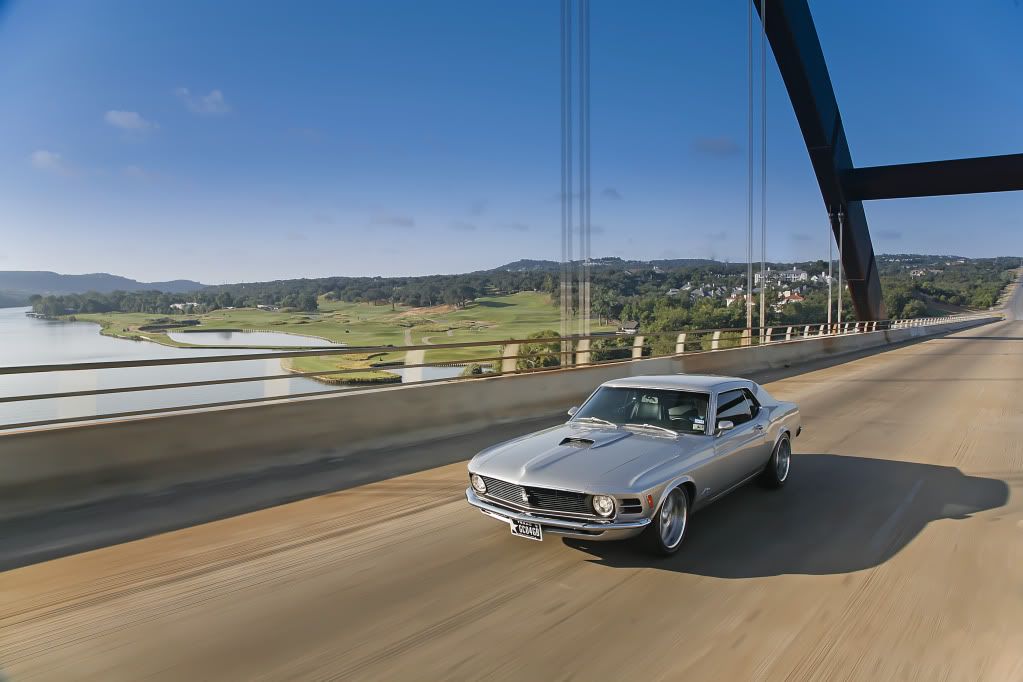 Logged
---
People keep touting the notion that ISO performance is increased, but DR at low ISO is not. I'm trying to understand how this is possible... is the following valid:

.. wonder, if so, if ACR will allow for feeding of dark frame avgs for each person's particular camera? Maybe the banding can be very greatly removed with an advanced RAW converter? Maybe if ACR refuses to put it in a program can be written to pre-process the RAW and then feed that altered RAW to ACR....

it still won't fix the poor read noise but at least most the ugly stuff can be rid and maybe you can 1/2 stop more usable??? (wild guess, not sure exactly how much) and of course it has to be that the vertical sort left on the5D2 is the sort that stays even frame to frame for the most part, not yet certain..




I think fixed pattern banding should be removable to some degree with an averaging of dark frame noise using same shooting parameters from the same body. This could be done in ACR or an aftermarket plugin and is something I've already suggested to the group at Topaz.
It should also be possible to do this in Photoshop extended version by averaging some dark frames and then using that to subtract from the affected shadow area.
Doing it this way's gonna need some masking and levels tweaking to make the math work out but visually it otta be doable, just a lot of extra work better left to a specific plugin or raw converter front end.

Adobe, DxO, Canon?... you guys reading this? Get on it!
Logged
---
---