It's all about the little things.
So this was an odd set and sequence of events. I'll start at the beginning with this photo: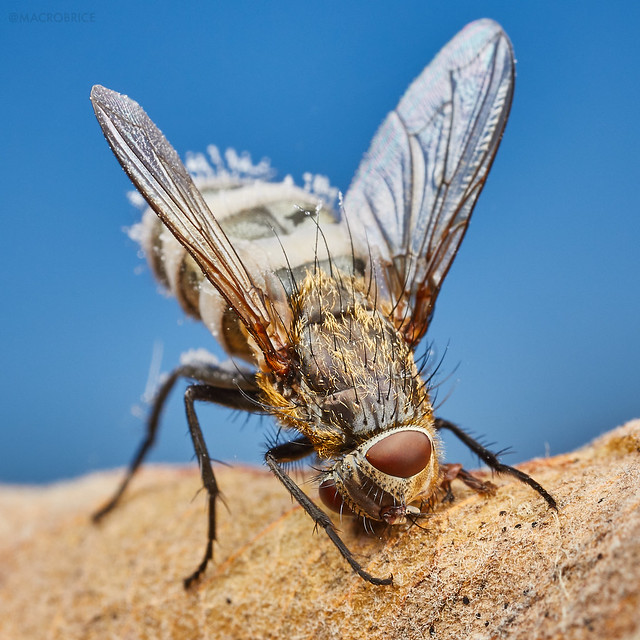 At first I thought it was just some sort of weird decay on the abdomen of the fly, and I was mainly focused on doing a memorialized death photo, if that makes sense. Got great focus on the eyes, and the resolution of the 5D IV really shows here. Coming from a 5D II I was blown away.
Here's a near-100% crop:
So I go back to my house and start to do some research, and find out the white on the abdomen is actually a fungus. The fungus infects the fly, causes it to bloat and die, and then the interstitial membranes in the abdomen swell and release spores of the fungus. This is where things get interesting: the fly dies in a sort of "mating posture". Unsuspecting suitors swing by for a quickie, and end up catching the worst STD of their short life. The fungus can either spread this way or just by wind.
So I go back outside looking for the same fly to get a better photo of the abdomen. Turn out I can't find it, but what I do find is that the tree that the fly was on is completely covered in dead infected flies in varying stages of the fungus' life cycle. Amazing!
Here's a couple that died together:
Same two, but a better shot of the abdomen and spore expulsion:
Another victim and their new host:
Close up of an abdomen:
This is the end result after it all, with the interstitial membrane exposed and most of the spores evacuated:
This is one of those posts where I have a realization that macro is always teaching me something new. Any other day I would have passed over the dead fly and wouldn't have thought anything of it. I'm glad that I can remain interested and hungry for more knowledge.
This post also taught me that you should always use a bloodborne-barrier type contraception and that necrophilia is NOT ok ;D