A lot of Canon users are being tempted to shoot with a Sony FF mirrorless due to the ability to adapt Canon lenses, and lured by the thought that the grass might be greener on the Sony mirrorless side of the fence. It isn't. Before you accuse me of being a Sony hater, I should also say I have cross posted much of this on the Sony Alpha Forum and the A mount crowd are applauding.
There is a big fad for Sony FF mirrorless at the moment, and it is like watching lemmings following each other over the cliff. I am allowed to say this because I am a Sony FF mirrorless owner because I too was suckered into following the mindless herd over the cliff. It was a big mistake. How could I have been so foolish?
This is a controversial claim, so let's go through the reasons for this bold statement. The simple question hanging over the full frame Sony FE mount system is this: what is the point of professional grade full frame mirrorless?
The first answer you will hear to this question is that full frame mirrorless is more compact. For example Maki Kimio of Sony stated in an interview:
AP: Can you summarise the benefit of choosing an Alpha 7-series camera over a DSLR in a single sentence?

KM: Size. It's all about size – it's smaller and lighter. That's the main reason of choosing our products.
Let's examine this allegation. I direct readers to camerasize.com where this comparison comes from:
http://camerasize.com/compact/#624.515,596.286,377.56,ha,t
It shows the Sony a7RII, Canon 5Ds, and Sony a99 with a native 24-70mm f/2.8 lens mounted. As you can see, the total lengths are the same. Sony has failed to overcome the laws of physics. If you take something from the camera body, you have to give it back to the lens, and by the same amount. So you have a choice: either buy one big body and lots of small lenses, or one small body and lots of big lenses. The former is economical and the latter is more expensive. The more lenses you carry on you, the worse the size disadvantage for mirrorless becomes.
In many cases, Sony FF mirrorless works out bigger:
http://camerasize.com/compact/#624.516,377.63,ha,t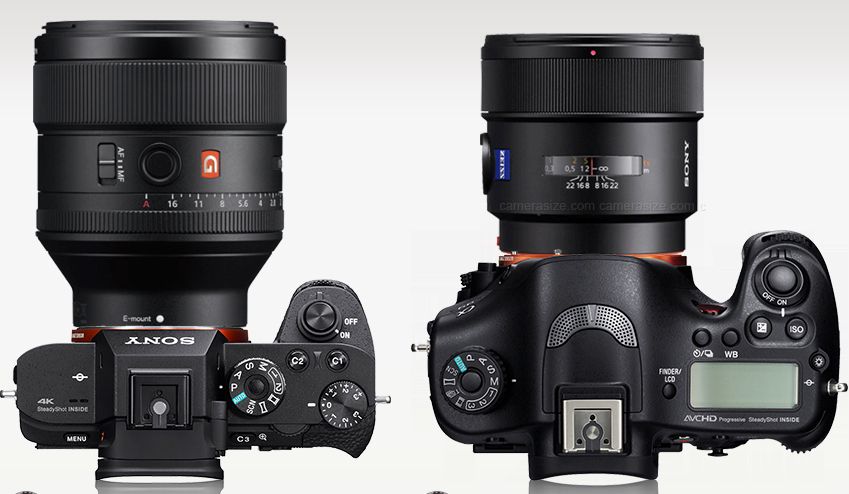 This shows the a7RII with the new 85mm f/1.4 GM lens vs the a99 with the Sony-Zeiss 85mm f/1.4 lens. This time, FF mirrorless works out BIGGER than the rival DSLT model. The same thing happens when you compare it with a Canon DSLR:
Here the a7RII with the 85mm f/1.4 lens is bigger than the Canon 5DsR with the 85mm f/1.2 lens, despite the latter being half a stop faster.
The only time mirrorless works out more compact is when shooting with pancake lenses:
Here, the a7RII and a99 are shown with a 20mm f/2.0 lens. This was probably the original design intention of full frame mirrorless, but it became so irrationally popular that Sony started to develop more professional lenses for the system.
Sony and Zeiss seem to be peddling the revelation of the obvious that slow lenses make for more compactness as though this were some spectacular technological innovation. It seems that f/1.8 is the default maximum diameter for nearly all FE mount FF primes, with only a couple of exceptions. The absurdity is that the 85mm f/1.8 Zeiss Batis gives you the same shallow depth of field as the APS-C Fuji XF 56mm f/1.2. What is the point of shooting full frame if you can't get more subject isolation than you can from APS-C? The only reason to limit aperture to f/1.8 is to make the lens more compact. But look at this:
Shown are the Sony a7RII with the Zeiss 85mm f/1.8 Batis, the Nikon D810 with the 85mm f/1.8, and the Fuji X-Pro2 with the 56mm f/1.2 lens. In terms of compactness, the APS-C Fuji is streets ahead. At maximum aperture all of these set-ups give you the same shallow depth of field.
If compactness really was your priority, you would be better off choosing the Fuji with the 56mm f/1.2, which also allows you to shoot faster in low light. The Sony makes up for the slowness of the lens with IBIS, but this won't help you stop action in low light. It makes no sense to limit the aperture speed on FF lenses merely for the sake of making a system more compact.
Even with a 50mm f/1.8 lens, there is questionable size benefit from shooting with a mirrorless:
Here the a7RII is shown with the new 50mm f/1.8 and the 5DsR with the 50mm f/1.8 lens. If you carry multiple focal lengths around with you at once, then professional full frame mirrorless has a marked size disadvantage. Want a more compact professional camera system?—buy a DSLR!
Now that the realisation has slowly begun to sink in that once the lens size in taken into account size advantage is largely lost, there is talk from increasingly desperate people now begging for a "24-70mm f/2.0 FE mount lens that is more compact (sic) than the f/4.0 version". But the public have deluded themselves into thinking that Sony and Zeiss can collaborate to rewrite the laws of physics.
The next answer you will hear is that a FF mirrorless is still lighter and the width of the body might be a bit smaller. However, that is only because Sony put such a miniscule battery in their FF mirrorless bodies that you end up having to carry multiple batteries that negate any size advantage. You could make DLSR batteries smaller too, and they would still have better battery life than a mirrorless. The larger bodies found of DSLRs is more to improve ergonomics and could be made smaller if there were demand for this.
So once again we find ourselves back to the original question. Other than as an enthusiast's compact walkabout system for shooting with a single pancake lens: what is the point of professional full frame mirrorless? It certainly isn't certainly isn't because it is more compact used with professional grade lenses.
The next answer you will hear is that full frame mirrorless is better because of IBIS. That's like saying that Sony mirrorless is better because of the steak knives that they throw in. IBIS is hardly any more a unique technical feature inherent to the design of mirrorless cameras than either wifi or steak knives. Pentax have just incorporated IBIS into their K-1 DSLR, and Sony could have put IBIS into their A mount DSLT system. So IBIS gives full frame mirrorless no inherent technical advantage over other systems, but people are suckered in by the offer of steak knives.
But Houston, we have a problem. There is also a major flaw with Sony E mount IBIS. The Sigma CEO has been quoted as expressing serious concern for the narrowness of the E mount diameter: "...the diameter is very small and makes it difficult to design high quality FF lenses ... it almost looks like E-mount was designed for APS-C more than FF".
We know that a narrow mount diameter is a big no-no with IBIS:
TAKASHI UENO: First of all, our XF mount is not compatible with IBIS. You may be thinking that our mount size is similar to competitors' and why Fujifilm cannot do it. The answer is simple: for the sake of image quality. IBIS has both advantages and disadvantages. IBIS moves the sensor in the mount to stabilize the image. To secure the amount of light at any position, the diameter of mount must cover the wider image circle considering the margin of sensor movement. The diameter of our mount was designed for the image circle without IBIS. It means the amount of light at the corners is reduced when the sensor is shifted. We could correct it digitally, but we don't want to do it: we don't want to compromise our image quality.

TOMASH: Why didn't you design a mount in a size, which would allow implementing the IBIS?

TAKASHI UENO: To cover the larger image circle, not only mount size (and body size), but also lens size must be bigger.

http://fujilove.com/our-highest-priority-is-always-image-quality-interview-with-takashi-ueno-and-shusuke-kozaki-from-fujifilm-japan/
If you want IBIS, you have to design the mount in advance with a wider diameter, so that it doesn't compromise corner IQ as the sensor moves around. What you don't do is take an APS-C mount (NEX mount), turn it into a full frame mount, then forcibly retrofit IBIS onto a mount never designed to take it in the first place.
Furthermore, Zeiss has admitted that the short flange distance of FE mount makes it technically challenging to design wide angle lenses: "The short flange distance between the sensor and the rear element is an engineering challenge for ultra wide-angle lenses." At short focal lengths, the light hits the corners at a steep angle, which is exacerbated by IBIS. It isn't without reason that Sony has yet to come up with any wide angle zoom lenses for the FE mount. They don't even have a 16-35mm f/2.8 zoom, one of the so-called zoom trinity of bread-and-butter professional lenses. We may never see anything like the Canon 11-24mm f/4 rectilinear lens for E mount, and it would hardly be predicted to perform well if it did appear. It is a euphemism to call the FE mount "technically challenged". The more honest expression may well be "technically flawed", or just plain retarded.
It is interesting to compare the relative diameters of various mounts:
Minolta/Sony A mount: 49.7mm
Sony E mount: 46.1mm
Fuji X mount: 44mm
Canon EOS EF mount: 54mm
Pentax K mount: 44mm
From this you can that see Sony were better off putting IBIS into their A mount, which has a wider diameter, because it is more of a dedicated full frame mount, not an APS-C mount. Canon is in a better position to add IBIS to the EOS mount because it is so wide, and if sensor resolution goes up to 120MP we will probably need it to reduce the impact of handshake. You can also see that both Sony and Pentax are adding IBIS to excessively narrow mounts purely as a marketing ploy, with flagrant disregard towards optical fundamentals. It represents the victory of advertising over engineering. For the credulous it represents Sony's triumph over the laws of physics.
In any case, neither throwing in IBIS nor steak knives fails to convince us that mirrorless is an inherently better camera design. With that we return to the question: what is the point of professional FF mirrorless?
The next answer you get is that the main advantage of Sony mirrorless is that you can use non-native lenses with adapters. Asked about adapting Canon lenses Kimio Maki of Sony said this:
Do you anticipate that someone who has a collection of long telephoto Canon lenses could potentially use them to shoot sports with the a7R II?

KM: I hope that our native lenses are better! But it will happen. I see people using Sony a7-series bodies and third-party lenses all the time ... because they already own the lenses. It works, but our native lenses are much better...
Adapters are grossly impractical to use. I have a lot of adapters for my a7II, and have accidentally taken the wrong one with me or have forgotten to pack one altogether. It's also an extra pair of lens caps to lose. Saying you chose FF mirrorless because of the size advantage so you can shoot with an adapted Canon lens is like saying that you're going on a holiday to Hawaii so you can enjoy skiing on powder snow. You can't have your cake and eat it too. Adapters are also fiddly, bulky, and they decisively kill whatever marginal advantage in compactness the body might allegedly once have had. Unfortunately, the body-adapter-lens combination ends up looking like some ungainly Dr. Seuss contraption:
​
Worse still, my Sony A to E mount adapter reduces light transmission by about a 1/2 stop, and you lose far too much of the native autofocus functionality, which gets immeasurably worse with Canon lenses. It is always far better to use native lenses—hence why Sony actually make native E mount lenses!!! As Maki rightly says "native lenses are much better". It's a grand statement of the obvious that no fanboys wants to hear. Nobody raves on and on about the fact that you can adapt some vintage MF lenses to Canon bodies then add focus peaking to the body with Magic Latern. Micro-misalignment between lens-adapter-body causes degradation of IQ in the corners particularly at shorter focal lengths (where due to the short flange distances and narrow mount diameter the E mount is "technically challenged" already because it was originally an APS-C mount). Being able to adapt vintage MF lenses might be cute and will have its niche, but for the vast majority of photographers, the last reason to choose mirrorless is as a vintage retro lens revivalist contraption. At the end of the day, when I pick my set of lenses for a shoot, I just find myself systematically avoiding the use of adapted lenses. I would gladly toss all of my adapters in the bin just to shoot with native lenses.
The next answer we get is that mirrorless is inherently superior because of live exposure preview. That means you get to preview the exposure in real time through the EVF before taking the picture. This is something that is not the default modus operandi on a DSLR, but a new hybrid viewfinder patent from Canon suggests exposure preview is soon coming to DSLRs. However, the Sony A mount cameras are DSLTs (Digital Single Lens Translucent), which already have an excellent EVF for live exposure preview. So once again it just isn't true to say that live exposure preview through an EVF is the one extraordinary feature that elevates mirrorless to the status of being an inherently superior design over other alternatives.
So we find ourselves returning to the original question: what is the point of full frame mirrorless? When it comes to full frame professional grade mirrorless, the answer is that there is no point. People are buying into it because it is an irrational fad. You end up having to buy lots of big and expensive lenses for the one tiny body, when it is preferable to have lots of smaller lenses for the one big body, since the total lens-body combination is the same anyway due to physics. In actual fact the lens-body combination makes professional full frame mirrorless multi-lens packages larger overall. The only time you get more compactness is when you shoot with just one short focal length pancake or quasi-pancake lens for use as a walkabout camera.
The fad for a7 series full frame mirrorless cameras is driven by irrational exuberance, and Sony are merely responding to market demand-supply forces, even though they know themselves that they were better off developing their A mount system, based as it is on superior optical design fundamentals. Their autofocus system, IBIS, and the 42MP BSI sensor would have reached their full potential on the dedicated professional full frame A mount system, and are being wasted on the FE mount mirrorless system.
Mirrorless FF cameras are going through the usual cycle that goes with all novel technology. First some enthusiasts delirious with euphoria proclaim it to be the road to Elysian Fields and declare the DSLR dead. Next people find the Revolution to End All Revolutions brings its own set of problems, and it isn't the magical path to El Dorado it promised. Finally, people arrive at the more sober realisation that like rangefinders, it has its niche, along with its own peculiar set of pros and cons.